Well I have officially finished all required work for my course. Handed up my final draft for my screenplay. I am relieved to be finally finished. That being said as I've said before, I have had a rather positive experience of my time in NUI Galway. I went to Nenagh for gape seed, it has changed quite a bit since I was there last. Went up to Dublin, can't believe that it was October when I was last there. Not much has changed, picked up a few things in Forbidden Planet there. And it's lovely to get my time back to doing what I want to get done in Galway. Enjoyed being off and not having to work on essays or stuff for class (well except for working on my blogs of course). I am going to have to have to redo my script I know that. But at least I am finished all to that. Am working on two side blog posts to this post. Am still working on my Second Doctor one for Moviepilot, but am also working on a blog post for here about unconventional heroes. I will also be picking up two particular blog posts that I hadn't posted up yet. I have a bit of the work still to do on them, so hopefully you will see them up here soon.
Also managed to get away for a night to Killarney, had meant to go to Cardiff, but it kind of fell through for me. But had a relaxing time in Killarney when I was there. Brought back a lot of memories for me when I was young and we used to have family holidays there when I was a kid.
Picked up things to help rejig my cosplay outfit before the conventions in August. Picked up a new pair of TARDIS converse online. Did not go to Wolfsbane 3 this year, it has gotten too expensive for me to go. Plus it made my July pretty busy as I had the Galway International Arts festival to go to.
Speaking of which, went to Kodaline in July as part of the Galway International Arts Festival in the festival big top. I got the tickets early luckily (the price goes up in June to €60). Also am picking up some of the tickets in the next while for the shows that `i want to go to see also. I make it a thing to go to the Arts festival every year. I really enjoy it. I have been attending the Arts Festival since 2000.
Also more recently got my hands on tickets for Welcome to Night Vale in the Olympia Theatre in Dublin on the 19th of September. I went last year in October to the live show and really enjoyed it, went to the show again. Unfortunately I missed the premiere of Doctor Who Series 9 as it's on the same night as the show. But just before it was set to air, I got a means to watch it in the hotel when I came back from the show. I really really enjoyed it. Am thrilled that the series is back finally.
Also managed again to pick up some things in Forbidden Planet and Sub City in Dublin before I went home on the Sunday. I was thrilled to pick up some actual Target novelisations and some Doctor Who related stuff from the early eighties about Doctor Who. Also picked up the figure of Ace from Remembrance of the Daleks and some alternate covers for the comics that I got online and in Sub-City Galway.
I also got tickets for November for the Doctor Who Festival in London. Am absolutely thrilled that I did. I forgot to get them for the fiftieth and regretted not going. Am going to be there on the Saturday. Unfortunately didn't get my hands on a TARDIS ticket for that day but did get the general Cybermen ticket for that day. Don't know whether I will be cosplaying that day. I have to think about my bag going over. It's early days. Michelle Gomez and Ingrid Oliver have been added to the list of guests. Unfortunately I didn't manage to get tickets for photos with Peter Capaldi but did get the Michelle Gomez and Ingrid Oliver ones.
Went to Dublin Comic Con at the beginning of August. Was a little bit disappointed with the organisation to be honest. But other than that had an ok experience. Will be willing to give them the benefit of the doubt and return next year. As long as the gaming (of both the card and console variety are moved to a room of their own. Felt awful for the people stuck in the corner while others were in line for talks and corralled them in.)
Also line management needs to be addressed for the panel room and maybe open the auditorium on the upper floor for panels like what they do in SDCC with Hall H. I mean, if you have this room at your disposal, why not use it.You are getting the crowds that would fill it. Also am hoping there is a replacement Doctor Who prop next year as this makes it easier for fans to organise meetups. Speaking of meetups, there was a meeting of Doctor Who fans on the Saturday of the con. Seeing as I was a bit too busy finishing off my screenplay at the time, it was kind of set up last minute, but was nonetheless very popular. Despite the fact that the convention organisers had yet again failed to get a Doctor Who guest. Another quite disorientating thing was the location of Artist Alley in relation to the shop stalls.
Went to MCM Dublin in the RDS at the end of August. It was a bit more of a sedate affair than the one in the convention centre due to the timing. Am happy to report that the changes that had been suggested by fans last year were addressed. There was a more spacious room for the panels and the cosplay masquerade this year(last year it was lumped in with the wrestling stage and the acoustics were terrible). There were more displays made available and everything was reasonably priced. Artist's Alley was right next to the shop stalls which was very convenient. Also, the coffee dock was fully functioning outside all weekend, unlike last year. Had another meetup at MCM. Unlike DCC, had managed to get word out about a meetup on the Saturday of the convention. It was a great success, there were a lot of Whovians at the event (I guess because they actually listened to people and got a Doctor Who guest again). The Whovian contingent even managed to win best group in masquerade on the Saturday of the convention. One thing is certain, the Irish fans of Doctor Who ARE here and need to be heard and not taken for granted.
Unlike DCC where I would fork out €30 each for autos and photos, the autographs for nearly all guests were either €15 or €20 with only the Katrina Law autograph (as far as I know) being €30. I also ended up with more money after than I did at DCC(again a simple thing which can be addressed easily for next year). Also unlike DCC, at MCM you could actually see the food trucks in plain sight, apparently there were food trucks at DCC but no one could see them as they were at the back of the building (the cost of food in the convention centre, yikes!).
Forgot to mention that I am doing ok with the course. Had assignments that I got done there not too long ago. Am happy with the result that I got in it. Watched Better Call Saul and am catching up with Breaking Bad. Also started watching and finished series one of Daredevil, really enjoyed it.Also finally finished season 2 of Orange is the New Black before the new series is added to Netflix, really enjoyed it. Am finished lectures now, can't believe that I'm finished all except for writing my screenplay. It has been quite a fun experience, difficult at times but really enjoyable.
We had the tenth anniversary of the return of Doctor Who. For me though, my first episode is the Unquiet Dead. I'm ten years in this amazing fandom and I'm not going anywhere. I had a weird old personal history when it came to watching the show. I remember watching an episode when I was either 3 or 4 in the 80's and it having an opening similar to a Smarties sweet ad on the telly around that time and always mixing the opening up with that Smarties ad.(If anyone remembers that ad other than me, please share a link with me) In 1996 I had a personal matter that happened around the time the TV movie aired. I only got to see that the Christmas of 2005.
Doctor Who is always something that seemed impossible to get into before 2005. It was something that wasn't really mentioned that much before it came back in 2005. When it was mentioned, it was mentioned only in passing in articles I read. It just seemed inaccessible. Also, added to the bother of all that was the question: where could someone get their hands on the VHS of the episodes (I only became aware that HMV in Dublin had the VHS of Randell and Hopkirk deceased, the new one by chance. Anyways, 90's Ireland was a bit weird to live in)
I'm telling this story knowing well that I just carbon dated myself, but frankly I don't care anymore. What I want to say is that this particular show has been the source of great happiness for me. I have met really great people who enjoy the show as much as I do and I have watched the fandom grow in Ireland from being something really small to being something really popular with people. I still have stories that I have to watch and books and audios to listen to. I love it.
Am currently finishing off stuff for college. Have some of my stuff submitted, am working on the rest of it. So at the moment I am experiencing a good few sleepless nights before I have everything done until my final script submission in August. But am loving every minute of it. It has really helped to improve my writing. What I have learned from this course is something that I will carry with me, that's for sure.
Amidst everything however, I have had a little time to think about things to do with my fanfiction. I have written a small bit, but I cannot think of them fully as I would like. But it has become clearer to me what I wanted to do with it. And it's a nice reprieve from the work that I have to do at the moment, albeit for a short period of time that I give myself to it before I have to go back to do coursework. The course has helped with that. I had a lot of ideas which I had forgotten about but thankfully am getting back to now.
I hope you are fairing well in the first few weeks of 2015. :D

Myself I am hoping to break a nasty habit I have every January where I go into a paralysis where little work can be gotten out of me. I started into work after my birthday by doing just the small thing of downloading the documents needed to write up a thing for my presentation for TV Drama. I have decided on doing it on Doctor Who. The problem with that is picking an episode that is the best example of classic writing from the classic era and what would be the best example of new style of writing in the current series of Doctor Who. In the end I chose 'Pyramids of Mars' for the classic example and 'Mummy on the Orient Express' for the new example(it just edged out 'Kill the Moon'.) I also had to write up something to do with my essay that was due on the Friday after I am back for Semester 2. Got that in ok.Have been preoccupied by my academic commitments. Got my results and am so thrilled that I passed the first semester. I am finding our Visual Writing workshop very interesting. In the first week we watched Un Chien Andalou
(finally got to see in in full, only saw it before in documentaries about Dali)
Have been working on small things since then for class. Just there on Monday I presented this to class.

Was quite happy with how it had turned out.
Met with my tutor about my script. Had an indication as to how it would go, let's just say I did not leave my class on Tuesday in good fettle, in fact I was rather upset. Anyways, after meeting my tutor, I went to a quiet spot and worked on the changes that she had suggested I do.
We had a talk to do with our screenwriting as well as a screenwriting seminar that I found very helpful, in fact it has really help to raise the fog that I had in terms of what I wanted to do with my character. I have a bit of work to do but I should be ok. Wrote out the first ten pages of my script. It's really nice to be working on it. For the longest time it was just an idea on a page so now I can honestly say that it has become clearer in terms of even the story moving forward in a way that I wanted originally. I hope some of the middle instances that I had thought up for my idea are received ok at my next tutor meeting. Had to work on my plot point one there, I was fairly ok with it. As usual my lecturer eviscerated it, I don't think he gets what it is I'm trying to achieve with this screenplay, which is bloody frustrating. Am getting a bit demotivated by that class if I'm perfectly honest. Fortunately for me I am made of tough stuff, so even if I am demotivated and feeling down, I'll continue to turn up. I'm not a quitter.
Doctor Who has started back filming in Cardiff since the 5th of January. Am very excited about that. It has just started filming its second block, according to Twitter. As well as that Sherlock started filming its Christmas special in Bristol on the 6th, it finished up a couple of weeks ago. Very excited about that. Over the New Year watched the very last episode of Miranda. Was sad to see it finish up. As well as that the last Cabin Pressure was on the radio just before Christmas. Was sad to hear it finish up, but really enjoyed it when it was on the radio. I got to see Birdman and the last Hobbit movie over Christmas. Also got to see Paddington too finally.
In relation to my fanfiction, I am nearly finished a one shot fanfic to do with Doctor Who. Am really excited about it. I was working most of Christmas and into New Year on it. Hope to have it somewhat in a way that will be presentable soon enough.
January:

Finished up my internship at the library. Had been very sad to be leaving the job, really enjoyed it. Around a week before i was set to finish up there, I applied for an 'Introduction to Film Studies' course that I had been meaning to do for years but because I was busy with things I could not commit to doing it until this.
February:

Decided to go do a Film Studies course. It was on every weekend for eight weeks. Really enjoyed taking part on it. Learning a lot of the aspects that go into filmmaking.

April:

Posted for the first time on MoviePilot, am posting about Doctor Who on the site. My first post was called Coming in from the Wilderness.
Went to MCM Dublin Comic Con, had a really great time at it. Although I do feel that there are elements that they could look at improving for next years convention.
June:

We had the premiere of the films that we worked on during the course. Was happy with how they turned out overall.
Also went to the fan screening of The Fault in Our Stars on June 12th a week before it was released in cinemas here.
July:

Travelled over to Birmingham to Wolf's Bane 2 and went to the Galway Arts Festival. Also the short 'The Usual' was accepted into the GAZE festival in Dublin
August:

Went to Dublin Comic Con and started watching the new series of Doctor Who. Found out that the Usual was nominated for an Iris prize
September:

Started a Masters in screenwriting in the Huston school in NUI Galway. Added to that, 'The Usual' (was on continuity) and 'Rival Chivalry' (which I produced) was screened as part of Culture Night 2014. I also joined the Time Lord Society (WhoSoc) in college and enjoying it thoroughly.
October:

Went to the live show for Welcome to Night Vale. Also 'The Usual' was screened as part of the Clones Film Festival
November:

Finally got my post about the first Doctor up on Moviepilot. It was called "The original you might say,"- a brief introduction to the First Doctor . Was pleased with how it turned out.
As well as this, I was DOP on the short that we had to do for class, the finished product can be seen below.
December:

Was working on another post for Moviepilot during November, but had been busy with coursework and then afterwards was busy getting Christmas things done. The article on Moviepilot was called "There's Something About Osgood"
http://moviepilot.com/posts/2014/12/28/there-s-something-about-osgood-2498455?lt_source=external,manual
Heard as I was finishing up also on the course that 'The Usual' was submitted into next years Dingle International Film Festival
http://www.dinglefilmfestival.com/
Also went to the 'Talking Production' seminar, as I had covered in a previous post. I really enjoyed it.
In Conclusion:
I have to say that as this year closes and we edge closer to 2015, I am definably not in the same position as I have been previously. I have pursued something that I had given up myself ever pursuing. I have met new people who I have the luck of getting to know. I have also ended the year having been involved in three short films, one which was nominated for an Iris award. It was great to be involved behind the camera. I still have a bit of hope for the librarian side of things, but for the moment, I am putting that side of things on hold. I am enjoying being creative again for assignments, it reminds me very much of working on my undergraduate and I love it. It's my type of work. I hope 2015 is a good one for me as I hope that 2015 is a good one for everyone.
Until 2015, I bid you farewell. :)
Well finally got the last blog up. Working on stuff now as well as FanFiction. Have several ones planned for over the Christmas. Was trying to get going with a second Doctor post to accompany my first Doctor ones. Have asked people about what stories to add that would be essential viewing for Whovians. I have recently finished an article about Osgood, a character I have a deep respect for and I wanted to look to see why it is that she is the most popular secondary character that has been created in the last couple of years. Why she is interesting is easy enough to see, she is normal.
But enough about that, if you would like to read more of my article, it can be found here. Am working on a look at the year that I have had. It has been quite a busy year for me and very rewarding.
I am just looking forward to my birthday. It's on the fourth. Heard that on the fifth of January, Doctor Who starts filming. Have watched the Christmas special when it aired on Christmas day.Have to say that I am really really happy with it. It certainly made up for what happened to Osgood (however I don't fully forgive him for that). It was nice to see long time fans weigh in on the death of Osgood in their vlog review.
This is a guy I have respect for as a Doctor Who fan so to have him weigh in on this matter and say that there was no logical reason to kill off Osgood is valid. Anyways, enough about poor Osgood for a bit.
I finished my semester with just one small complaint of lack of sleep. Have submitted everything that was required of me. Have said that I wanted to blog a bit and write a bit more for myself before the end of the year and I think that I am succeeding in doing that. Watched the Doctor Who episode 'Last Christmas' on Christmas Day and really enjoyed it. In terms of my fanfiction, I have started a few new fanfics. Also working hard on getting my look of what happened to me over the year done. This in any case will be my last normal post before New Year.
In terms of fanfiction, the fire has been rekindled in terms of writing for Twelve. I was a little reticent in writing during the complete Doctor Who series 8 due to all the things that could happen and indeed did happen. It is also quite dangerous to do a fanfic at this time because, as I've discovered. Companions could leave and then you would be left with trying to figure out how to fit your story around the new companion. It is also difficult as with a new Doctor comes a new personality and you have to account for that when you are writing your fanfiction. As you know, I did write two what I would call rather safe fanfics at the start of the series. One being called Who I am, Who I Was and the other called The First Face This Face Saw
I feel that this is the time however that I can write a bit more because I feel as if I can write a bit for this Doctor now. It was nice to be left wondering about what this Doctor was like throughout the series rather than knowing straight away how to write for the Twelfth Doctor. Had an interesting idea during watching the series. It was based on something that was mentioned by the Great Intelligence about calling the Doctor 'The Beast', I think I have an ending now for that particular fanfic. I found myself thinking a lot about touch and the lack of in the last series. It features a bit in one thing that I'm working in. But am quite excited about a ficlet I plan to have up in the next few days, it's on the theme of acceptance. Also have one that I'm quite excited about getting my teeth into in the new year and that is a fanfic that features my childhood hero Grace O' Malley and a Doctor Who creature that we last saw in an 80's Doctor Who story. But hey, that's a story that will be told in full in 2015. For now, watch out for my last post of 2014, which will be a look back at the year.

One week is running into another for me this weather. I meant to also say in my last post that I have been doing some exciting things as of late.
When Doctor Who was set to premiere. I had found out that there was going to be a cinema showing of 'Deep Breath' the season opener. Was very pleased with the turn out in my local cinema. It wasn't like the turn out for the 50th, but it was still a respectable turnout nonetheless.
Also was up in Dublin at Forbidden Planet for the Bryan Lee O' Malley signing. Had to wait for nearly two hours to get his new book signed but it was totally worth it. Was too late to buy anything in the shop though, which was a pity as I had my eyes on a Peter Capaldi 12th Doctor poster. I was hoping to get it before the series had started up that Saturday. Luckily for me, I did get back up there two weeks later and got it. I was very pleased.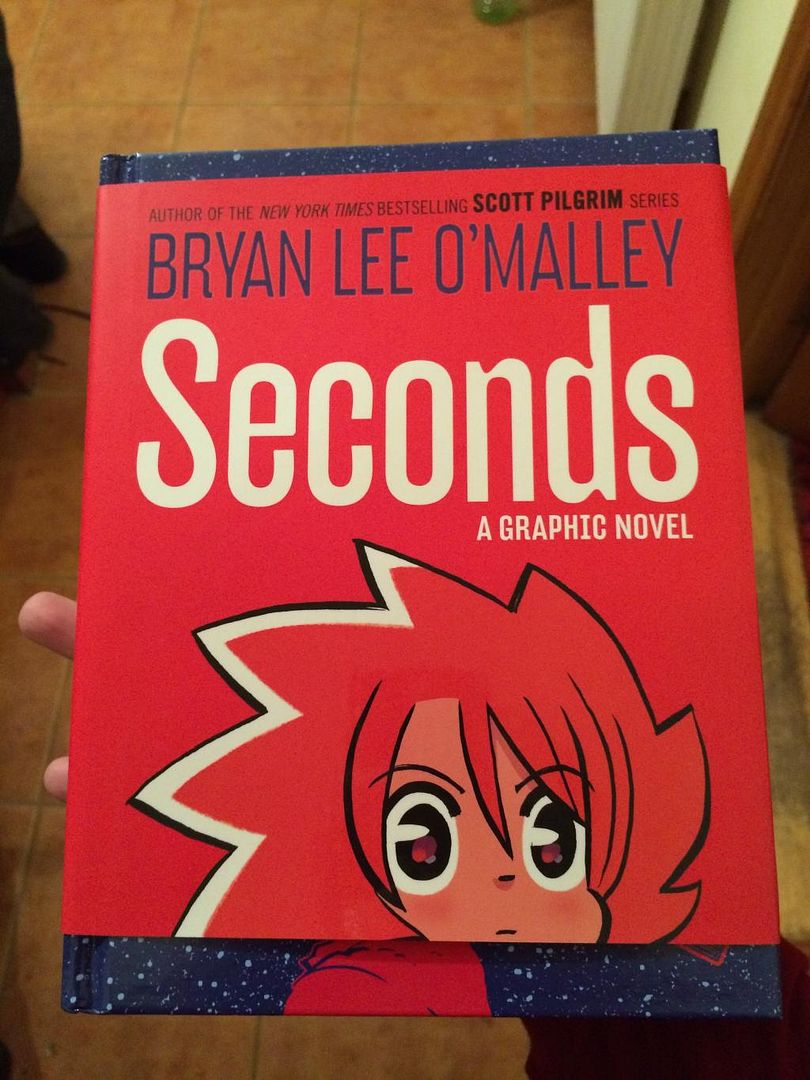 Really enjoyed Doctor Who being back on our screens. As I said in the previous post I am very pleased with Peter's Doctor. I have collected a few small things during the year that I am very happy to have picked up online to do with the show. Am also waiting on a few things to arrive in the post that have yet to arrive to me.
Am also quite pleased that things have taken a surprise turn for me, hopefully for the better. I started another course. In fact it's a Masters in Screenwriting. Things just sort of slotted into place and I found myself on the course. Am working hard on it. Have taken part in doing another short film for class and worked hard on getting my treatment and other assignments in.
More recently, I found myself back up in Dublin for to see Welcome to Night Vale. Had booked the tickets back in July for it. Was really looking forward to it. It was brilliant.
I stayed overnight and went shopping in Dublin. Picked up a few things that I had meant to buy the last time I was up in Dublin in Forbidden Planet and also stuff I had looked at getting in Hodges Figis and Tower Records.
Have been very busy as well as participating and winning again NaNoWriMo. Am so thrilled that I was able to participate this year. what I wrote wasn't perfect, but I plan to work on it a bit more in the New Year. In terms of my own fanfiction, since I have been busy doing the course, I had little time to give to my fanfiction, thankfully am easing my way back into it.
Also managed to get to the Galway Film Centre seminar 'Talking Production' in Furboe. Got to see the talk from Beau Wilimon about being show runner on 'House of Cards'. Both days were absolutely brilliant. It was revealed to us that hey had hoped that an announcement would be made concerning the UNESCO City of Film status but news of that did not come in until Monday that UNESCO status had been gotten.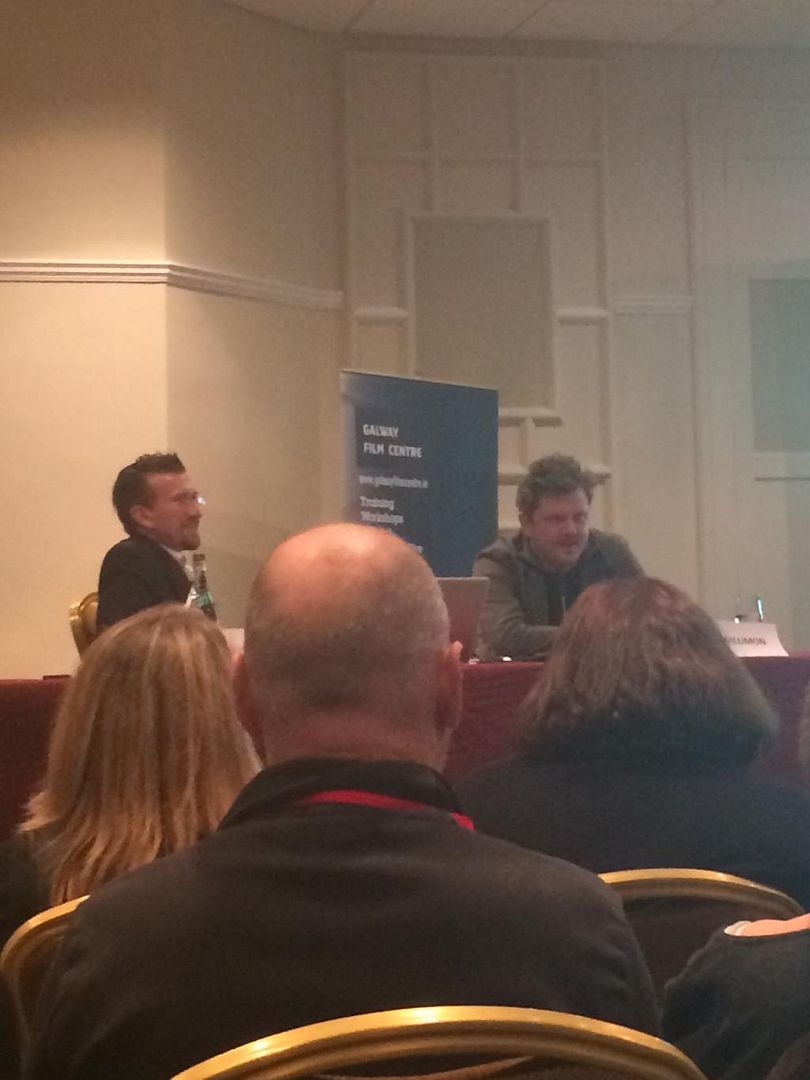 Looking forward to getting back to writing for myself now that my academic work is all. Have finally gotten that blog up that I was working on to do with the first Doctor so am really really pleased. Had hoped to have gotten a few more blogs done over the break but life kind of needed tending to when I wasn't working on academic work.
There was quite a few things that I failed to mention in my last post.
Meant to mention in the last post that I have become a fan of a few more series. I finally caught up on 'Game of Thrones' which I love.
I started to watch 'Penny Dreadful', really enjoyed it, it's a very interesting take on the traditional horror stories. Looking forward to seeing how it all pans out, am definably going to stick with it. Also I have started to watch season 4 of 'Teen Wolf', am really enjoying it so far.
Also am very happy because 'Doctor Who' is back on our screens. Peter Capaldi is absolutely brilliant as the Doctor.
Started as well to listen to 'Welcome to Night Vale' finally. Had tried to do so in the past, but couldn't really give it the time that it required of me to listen to it. Am really enjoying it. Have nearly caught up in all the episodes now. I have just to listen to the current episode now. Am also going to be heading to the Sugar Club to the Friday date of the live show in October. I can't wait.
Went to the fan screening of 'The Fault in Our Stars' on the 12th of June. A week before it was due to go on general release over here in Ireland. Had been waiting for its release over here,and I really really enjoyed it. It was the closest that I had ever seen a film to accurately portray what was in a book. There was obviously a few very minor discrepancies from the text, but nothing really major. In a type of blink and you'll miss it moment, you will see the only real mention to 'The Hectic Glow', the band that are mentioned in the book alongside Hazel's love of the fictional book An Imperial Affliction by Peter Van Houton (played by Williem Defoe) is a poster in Hazel's room. I am not annoyed about this omit to be honest though, I thought that it was really sweet for the two to be sharing ear buds listening to music (you can't get every single thing in, it would be impossible). I did love however that the soundtrack features one of my favourite Irish bands Kodaline. And it's the one song (along with High Hopes) that can bring me to near tears. There were a few more changes that are chronicled here in this article . However, despite that they DID keep the heart of the story there. It is definably one of my films of the year.
Also, my phone went bust, so had to scrap the plan to get a new camera. Happy with how it is working for me. Will have to wait until later to get a new camera though.
Went to Wolf's Bane 2 over the weekend of Friday 11th July-Sunday 13th July in Birmingham. Had a really great time at it. The guests were fantastic, will be posting a blog on that as well soon as well as my report on Dublin Comic Con which was on from the 9th August-10th August.
Fanfiction
Got another chapter of my fanfic Subversive finally up online. It's a fairly longer chapter than my previous ones coming in at around 2,000 words. But I have to admit, I had found it difficult to find an endpoint for the chapter. In other news of the fanfic variety, I had started three Doctor Who fanfics (not of the Phoenix variety as I had written before, but something different. I have to face into doing one with the eleventh Doctor and Phoenix but I haven't thought of any idea yet as to how to do it)
I have one of them already posted up online called 'The First Face this Face Saw' on fanfiction.net. A link to that story can be found here
Anyways, am still working on my MCM post as well as my post on DCC and Wolf's Bane 2, hopefully they will be all be ready soon.
Well the weekend course went well. Everyone on the course was so friendly. Really enjoyed it. It was so refreshing to have somewhat of an idea of what making a film entails. Unlike the times that I felt I was floundering in the Information Technologies module in my Masters. Speaking of which, I finally am through with the course and am qualified. Which pleases me greatly I can tell you. It took me a long time to get to this point. On the downside however I found out that I was not eligible for the internship in Galway library. Anyways, c'est ça. I have tried for other jobs in the meantime. I went to the showing of both films last Wednesday and they both turned out to be fantastic.
Whoops, forgot to mention about Teen Wolf in the last post. But yes, Teen Wolf was back on our screens, as was Sleepy Hollow, Beauty and the Beast, Arrow and Grimm. All in all am one busy fangirl this weather. Marvel Agents of SHIELD was also back on our screens. I saw that episode where the guest star is the legendary Stan Lee, it was brilliant. How the series finished in the season finale was really really brilliant. Cannot wait until series 2 hits our screens. Really enjoyed watching The Musketeers, Peter Capaldi was absolutely brilliant in it. To be honest, I think it was a mistake to say that the Cardinal would be killed off. What if instead, he decides to retreat to a monastery. Also, I think I have mentioned in the previous post that I am not particularly pleased that we have to wait until August for a new episode of Doctor Who. However, thankfully photos and videos are starting to trickle in from Cardiff. Have no idea of what is going on in it but it all looks very exciting. Peter Capaldi looks amazing as the Doctor. Can't wait to see his Doctor in action in August now. The Teen Wolf S3b was really amazing, such a good series, it went from strength to strength if you ask me. It's such a pity though that still S3 cannot find some channel too show it on. (Don't even get me started on iTunes Ireland, it's a joke. They don't even offer TV series on it) Also, In the Flesh was back on our screens, I really enjoyed it, I hope that it get's a third series.
The exciting news that I have is that I had gotten tickets for both MCM Comic Con in April (first con of the year) and Dublin Comic Con in August. The MCM Dublin con was absolutely brilliant. The only bug bear that I have about it Also have the Wolf's Bane 2 tickets that I had ordered back a few weeks after I come home from Wolf's Bane in September, thankfully have my e-ticket in hand for when I go over next month. I have all nearly sorted for going over to that con, I have already my room booked(and now confirmed) in the hotel, I have also booked my flight over. I just have to get a list together of what I'm packing. I also have to see is it too late to book photo ops. I also booked some of the tickets for the Galway Arts Festival. It's very exciting, this year we not only have John Mahoney returning during the Arts Festival. We also see this year the return of Cillian Murphy and also Stephen Rea is joining him this time. Have to try and book tickets for some of the other of the shows before next month. This years programme of events looks absolutely brilliant if I'm honest.
Have another blog post with the full report of the April MCM con in Dublin.Am hoping to get the post up from MCM Expo Dublin in the next while. Hopefully before July as things get very busy for me in that month.
Feeling:

busy
Decided pretty early after last year's convention that I will be going to Wolf's Bane 2 this year. I am happy to report that I have booked my tickets and my hotel room already for the convention. Also it was announced the Dublin Comic Con is going to be going on next year. I have already gotten my ticket for it and now can't wait until August.
Went to the Doctor Who 50th anniversary in the cinema in 3D. Was really looking forward to seeing it now for a month. It was absolutely fantastic to see so many fans come out in support of Doctor Who and for the 50th screening. It was really really heartening to see that.
Christmas as well saw another Doctor Who event. It was the last story that Matt Smith was in and the first that we had managed to see a a glimpse of Peter Capaldi's Doctor. I have to say, I was excited when he imitated William Hartnell, and this appearance, brief as it was, was just the icing on the cake.
Am also very excited after seeing what Peter's Doctor i going to be wearing. It looks very dapper indeed and I bloody love it. Am very heartened to hear that there are going to be more classic Who elements reintroduced into the series. I look forward to seeing what this will mean.
*sighs* Why does August have to be so far away?
Also watched series 3 of Sherlock, finally. Have been waiting an awful long time to see the resolution of how Sherlock survived the Fall. However, we were really left with more questions than before. I suppose we will never know, and strangely enough, I am ok with that. However, how I feel isn't how others will feel about it. I have to say though that Steven Moffat and Mark Gatiss were very respectful to all fans theories and ships in this series. I would say that it is a proper reaction to fans. The fear that I had was what would happen when both men were faced with these ships and theories. Would they be understanding or would they make fun of it all?
In a sense, they are acknowledging all the theories and (almost) all the ships(where the hell was Mystrade??) and by leaving it open ended, we can still choose the reality that we think happened. It is clever and it pleases everyone. I don't suppose that both men had this quote in mind when they went about writing their solution, but they adhered somewhat to it I feel.



"Tread softly because you tread on my dreams" -W.B.Yeats

If they actually adhere to that in the future, this remains to be seen. I hope that Steven remembers this in both Doctor Who as well as Sherlock as I feel that this is important.But I have to say that Magnusson as a villain was not as well as fleshed out a villain as Moriarty. Compare series one, if you will to series three. Within this series there is no real threat looming over from episode one, making the reveal less anticipated. Sure we see little glimpses of it in episode one and two briefly in one of the telegrams but the threat is not unseen. We get to see a bit of Magnusson at the end of the episode, he is even to be seen in promo images for the season. In a sense, as much as we are looking forward to seeing him, in certain aspects we know he is the character there is no horror in the surprise of finding out who the villain is. Unlike what it was in episode one of series one, there was no real unseen unknown looming threat since episode one. However, I think this can be easily rectified in series four.
To do it right, I would argue, look at how they dealt in comparison with bringing John Hurt into Doctor Who. We didn't know that he would be playing a Doctor. His character is kept hidden, even from the press. This is what makes it work so well. We think that he is just going to be another peripheral character, not the Doctor. To bring it back to Sherlock, a similar thing happens when we see a character become another more sinister character but hides in plain sight. We see that when Jim from IT become Jim Moriarty at the end with the cliff-hanger. It has the same power as when you find out in Doctor Who (spoilers ahoy if you haven't seen this Who story) in the Deadly Assassin that The Master is back and was being assisted in his dastardly plan by Chancellor Goth. By opening it again at the pool it ensures that the threat he poses is always felt throughout season 2 as a result. That was what made Moriarty such a brilliant villain, he was always a threat, even when he wasn't much in the story there would be some reference to him. You anticipate seeing him at the end of season 2 because you know him as a character, you know what he is capable of. You await in trepidation WHAT he is going to do and HOW he is going execute it.
Well enough about fandom stuff for the moment.

In other news, last month marked the final month of my internship. To be honest, I really was not looking forward to finishing up. I've found it to be a really great experience. People are quick to criticise Jobbridge but I have to say honestly that it has given me the experience that I needed.
Anyway, as I have said before, I was not looking forward to finishing up but hopefully there might be something out there for me in the future.
I have applied though for something already, however I have to hear whether or not it would be possible for me to do what I wanted to do. Hopefully I will hear good news from that prospect.
However, for the moment,just as I have in fact finished one happy chapter in my life, I am moving onto another one. I have finally plucked up the courage to do the film course that I wanted to do since I was in the second year of my undergraduate course when I was in Carlow. Am starting in Galway this weekend.
Am really really looking forward to starting it now.
Feeling:

excited

Background Noise:

Happy by Pharrell Williams
There is a lyric from a song "What a difference a day makes" , it seems apt for me, however it is not a day which has made a difference, it's the year. It's more for me "What a difference a year make". So many things have happened for me since the start of this year. I mean at the start of this year I had been in a bit of a rut. Thankfully that seemed to sort itself out for me.
I was busy for most of the year working part of the year working in a local library as part of a Jobbridge internship. I have to say that I really truly enjoyed it so much working there. There was a little bit of disappointment as at one point I didn't think that I had gotten it, but thankfully I did and it worked out for the best. It's actually coming to an end the end of January and if I'm straight honest, I don't want it to end, the end has come around too quickly.
As well as that happening, I also had the good fortune to head to two conventions this year, one was Dublin Comic Con which was held at the start of August and the other was the Wolf's Bane convention in London. i was a little nervous going to the Dublin Con as it was my first ever convention. Am planning on going to Dublin Comic Con again next year. Thankfully everything went well. It didn't really feel like my first actual convention as I only went to one day of it. Wolf's Bane was my first weekend con. It was also my first fandom specific convention. It was for Teen Wolf. I really enjoyed it. So much so that I have got tickets for next years con in Birmingham for Wolf's Bane 2. Also planning on heading to MCM Comic Con Dublin as soon as the tickets go on sale in January.
In late October, I had managed to book the tickets for to see the 50th Anniversary of Doctor Who in 3D in the cinema. Was really really looking forward to seeing it in the cinema. Was really great to see so many fans at the showing of the 50th. Am sure that it would have been the same in other cinemas that were showing Doctor Who in Ireland. The episode was absolutely brilliant. I really enjoyed it. In December we said goodbye to one Doctor and hello to another. Matt had stepped down down and Peter Capaldi has taken over. To be honest, I am very excited to see what is going to happen in the new year with Doctor Who, eve though we have a bit of a wait until then.
Also, another great achievement for me was that I took part and won NaNoWriMo this year after a couple of years of saying to do it. I actually did it and won it. Will be taking part next year, had great fun taking part in it this year.

Anyways, that's what happened. Here's hoping that 2014 is a great one for everyone.
Happy New Year everyone.
Liz.
Feeling:

busy